Rivalries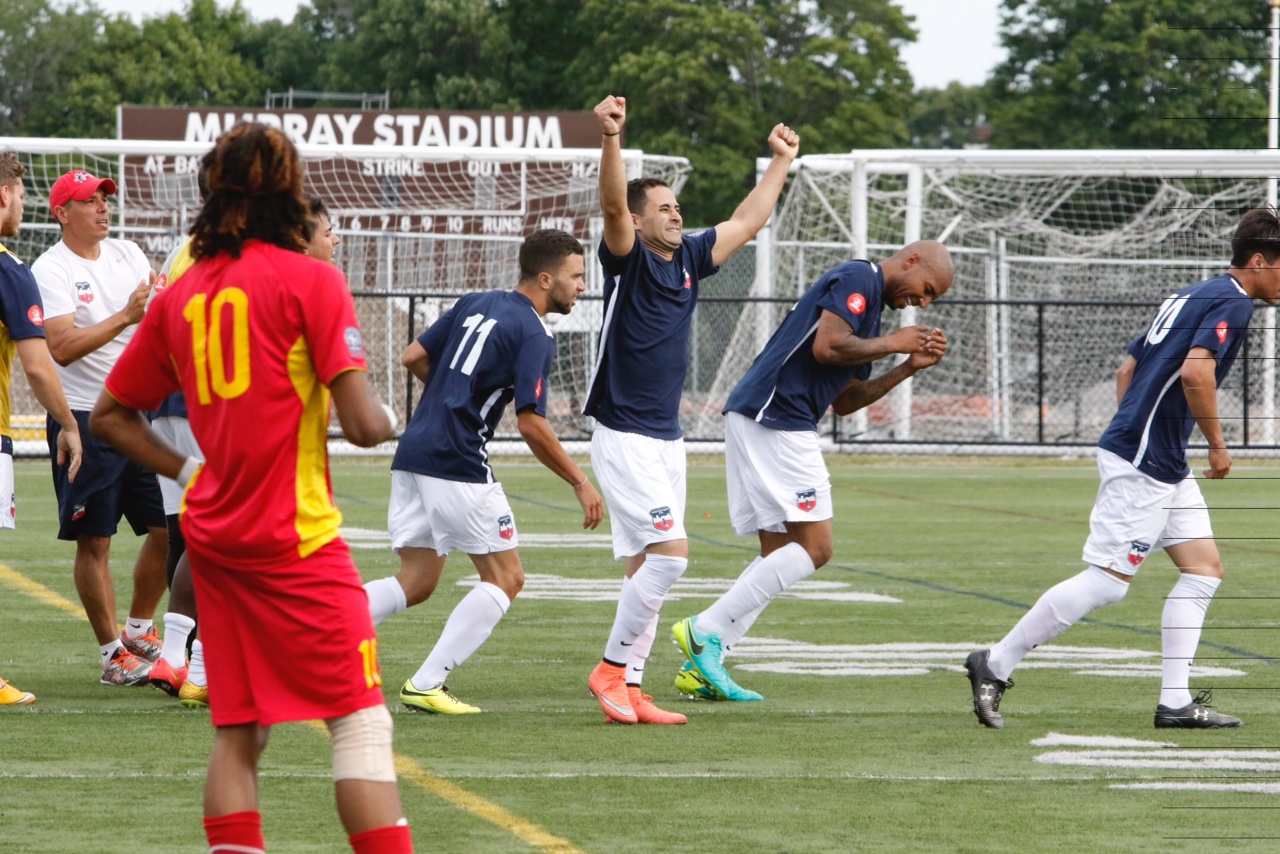 New York Cosmos B
Home: Saturday, April 29, 7pm, Malden Catholic High School, 99 Crystal Street, Malden, MA
The 2015 NPSL champions are the team everyone wants to beat and last season, Boston City was the first team to record a victory over 90 minutes against the previously unbeaten Cosmos. A famous 3-2 midweek away win was sweet revenge for an opening day 3-1 loss in the Lions' first-ever competitive match. "We were a new team still discovering our identity the first time we hosted Cosmos B, but after a successful first season and with a growing confidence in how we play, we are looking forward to welcoming New York back to Boston," said head coach Palhinha. "This will again be a tough and challenging way to start the new season, but we are excited to kick off in front of our great home supporters."
Rhode Island Reds
Home: Saturday, May 13, 3pm, Malden Catholic High School, 99 Crystal Street, Malden, MA
Away: Sunday, June 18, 5pm, Brown University Berylson Field, Providence, RI
2016 NPSL Golden Ball (MVP) and Golden Boot (top scorer) winner Isaac Nana Addai will line up as a Lion against his former club in Boston City's second home match of the new season. The Liberian's move north from Providence during the offseason adds spice to a rivalry that was established as one of the fiercest in the division last season. Boston City won a thriller 3-2 at home with a late goal by Darlan Rocha, whose strike separated the rivals in a 1-0 away win that secured a playoff place and eliminated the Reds from the 2016 postseason.
Seacoast United Mariners
Home: Saturday, May 27, 7pm, Malden Catholic High School, 99 Crystal Street, Malden, MA
Away: Wednesday, June 28, 6pm, Fitzpatrick Stadium, Portland, ME
Boston City recorded the club's first-ever away win with a 2-1 victory in Maine last season as goals from Yaw Addow and Jhonata Batista opened a 2-0 lead, but a second half reply meant the Lions had to fight to hold on to three points. A 1-0 home win came thanks of a spectacular 35-yard Homero Morais strike, but Batista suffered a season-ending broken ankle early in the match.
Hartford City FC
Home: Saturday, June 4, 6pm, Malden Catholic High School, 99 Crystal Street, Malden, MA
Away: Sunday, July 2, 4.30pm, CT State University Soccer Stadium, New Britain, CT
Expansion club Hartford City provides a new rivalry for the Lions and an opportunity for fans of both teams to travel the relatively short 120-mile distance to create a partisan atmosphere for the I-84 Derby.
New York Athletic Club
Home: Saturday, June 24, 7pm, Malden Catholic High School, 99 Crystal Street, Malden, MA
Away: Saturday, May 6, 2pm, Travers Island, Pelham Manor, NY
Despite finishing in eighth place last season, New York Athletic Club proved to be Boston City's toughest opponent, taking four points from a possible six from the Lions in two meetings. Two late NYAC goals sealed a 2-0 win at Malden Catholic High School after Boston City had dominated, but failed to find the net. Then blustery conditions in the away fixture led to a 0-0 draw, making NYAC the only team the Lions failed to score against in regular season play. The teams will meet at Travers Island in the second match of 2017.
Kingston Stockade
Home: Saturday, July 8, 7pm, Malden Catholic High School
Away: Saturday, June 10, 5pm, Dietz Stadium, Kingston, NY
Boston City's 3-2 away win at Kingston halted a run of two defeats and proved the catalyst for a nine-match unbeaten run to the NPSL playoffs. Twice the Lions came from behind in a match delayed for an hour by lightning and claimed victory in the final minute. The match also marked the debut of teenage goalkeeper Vitor Scariot, who established himself as the undisputed starter and a favorite of the Ironsides Crew, who named him their player of the year at season end. The Lions triumphed 2-0 at home with goals midway through the second half, including another trademark long-distance bullet from Homero Morais.
TSF
Away: Wednesday, June 14, 8pm, De Paul Catholic High School, Wayne, NJ
Boston City's away crossover match with the Blue Conference introduces a new opponent in NPSL expansion team TSF. The Lions are no strangers to returning home from midweek matches as the sun rises in Massachusetts after long journeys south to New York Cosmos B and Brooklyn Italians last season. The Wednesday night visit to New Jersey will provide a similarly bleary-eyed return. The date and kickoff time of this match are still to be confirmed.