Boston Food Bank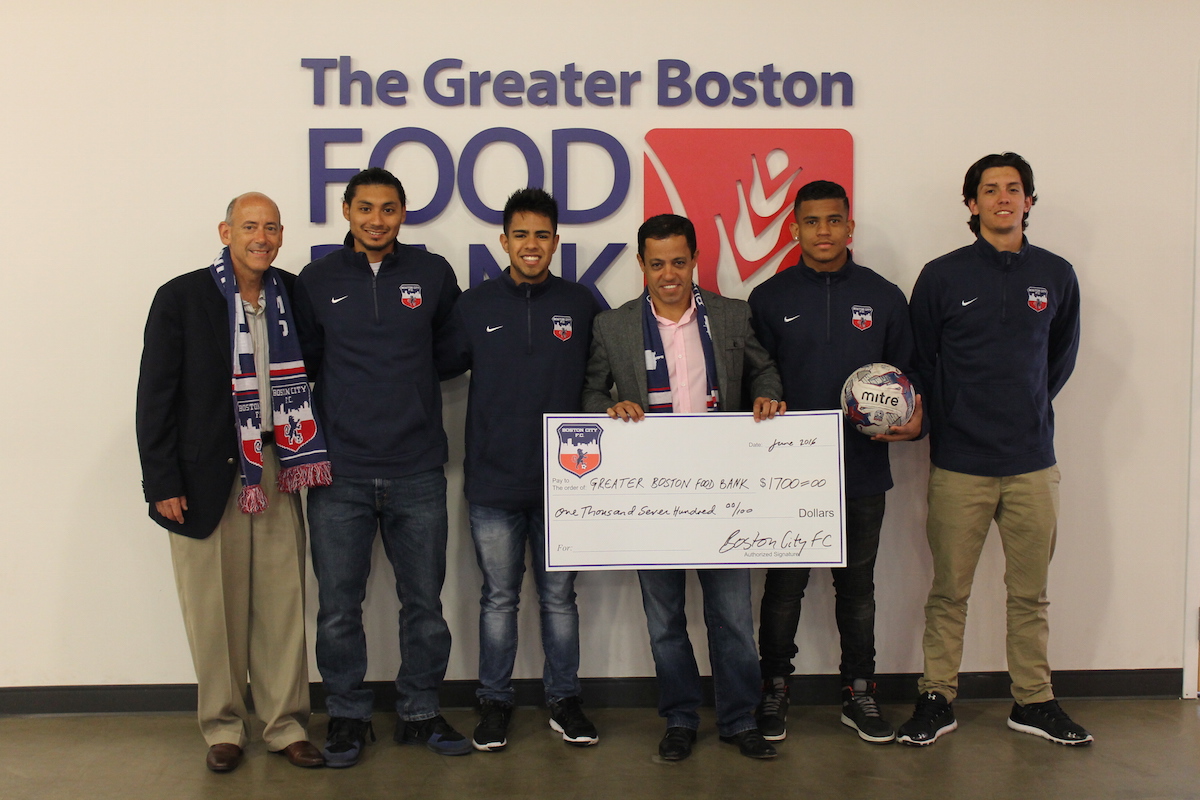 On June 3, Boston City FC played against the New England Revolution U23s in a friendly match, with all proceeds from ticket sales donated to the Greater Boston Food Bank.
Admission prices were $10 per person, so the attendance of fans at the match generated $1,700 for the Greater Boston Food Bank, which is enough to provide 5,100 meals to those in need in the local community. The team's supporters had identified the Greater Boston Food Bank as the ideal beneficiary of the money raised.
Boston City FC owner Renato Valentim toured the GBFB facility on Wednesday, June 29 and presented the donation, accompanied by Managing Director Craig Tornberg and players Jhonata Batista, Marcello Cunha, Estive Sosa and Jean Carreiro.
"Visiting and touring the Greater Boston Food Bank facility really brought home the enormity of the challenge to provide food to those in need," said Renato. "We are pleased to play a small part in helping reach that goal and we thank our Boston City FC fans and the local community for supporting our efforts."
The Greater Boston Food Bank (GBFB) is the largest hunger-relief organization in New England as well as one of the largest in the country, and a member of Feeding America. Last year, they distributed more than 54 million pounds of food, enough to provide healthy meals to over 500,000 people. Their mission is to end hunger in eastern Massachusetts by providing at least ONE MEAL A DAY to every person in need.
"It is an honor to partner with an organization like Boston City FC, who care about their community and give back," said the VP of External Affairs and Advancements, Suzanne Battat "We are so grateful to their donation and their commitment to learn more about hunger in eastern Massachusetts and we look forward to working with them more in the future."
GBFB acquires food through food industry product donations, food drives, financial contributions, and the generosity of more than 25,000 volunteers annually. The organization reaches those in need as far north as the New Hampshire border, west to Worcester and out to Cape Cod and the islands.
To learn more about the Greater Boston Food Bank, visit www.gbfb.org to find out how you can help today.