Ironsides Crew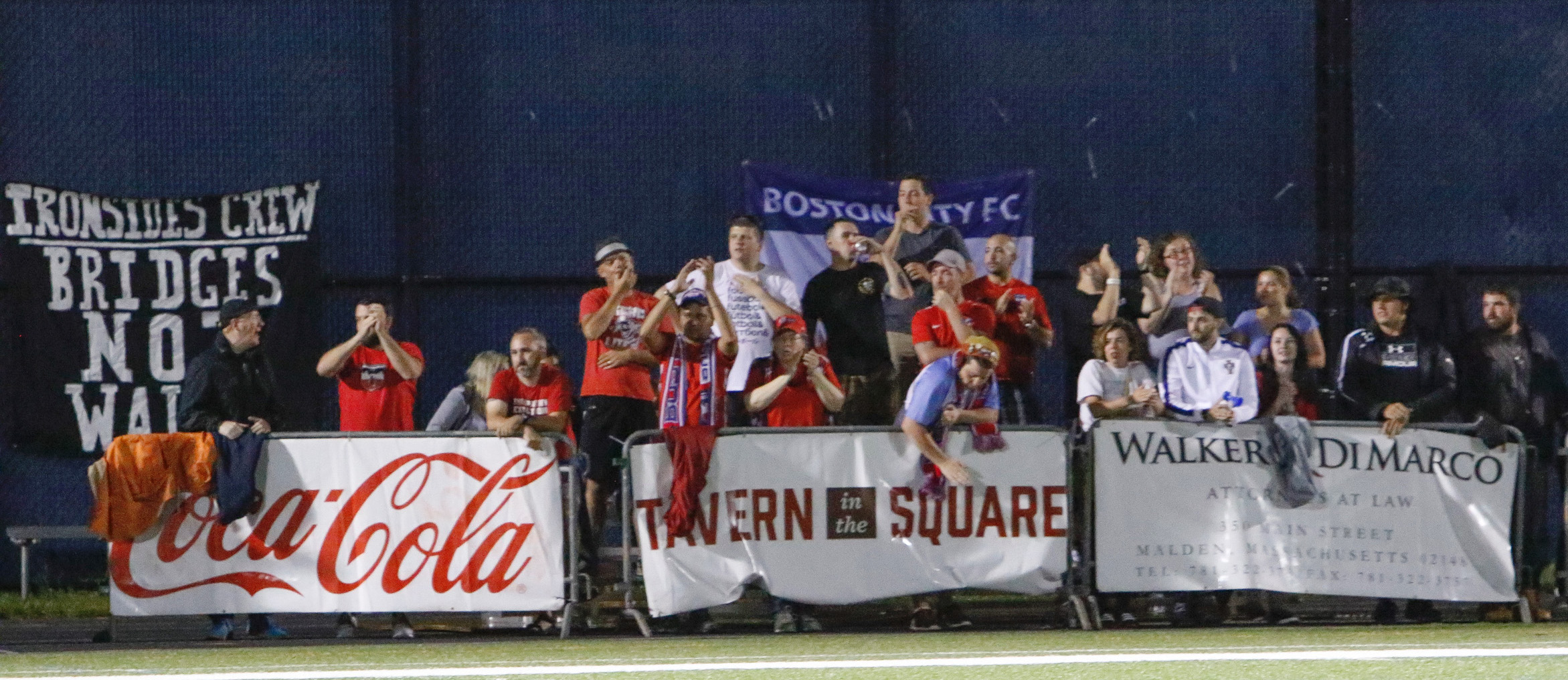 In their own words, they're 'loud, passionate and a little brash' and they bring a unique element to all Boston City FC matches.
They have their own website at www.IronsidesCrew.org and an impressive logo that is a shout out to the heritage of our sport in the region.
The Ironsides Crew is the group of supporters who position themselves on the opposite side of the Brother Gilbert Stadium main stand. They spent 2016 level with the edge of the 18-yard box and have moved on to their own bleachers standing section at the halfway line. Ther Crew play their own part in helping the Lions roar to victory. They also travel to away matches in numbers.

At many clubs, the notion of the 12th man has become more of a marketing buzzword than a term for fans who have a genuine influence on the match, but not at Boston City.
"They give us that extra something when we need it," said Lions defender Marcelo Cunha. "When you're chasing a ball, or fighting to stay in the game, you hear them and see their support and it makes you work harder. We see how loyal they are to the team and know we can't let them down.

"They rattle the opposition sometimes too, which is what home advantage is all about. We go over and thank them at the end of matches because we genuinely appreciate their support."
The Ironsides Crew was founded in 2016 as an independent supporters group for the newly formed Boston City FC and comprises of members of the Rev Army and Midnight Riders who have joined forces to support a new option in local soccer. They are open to anyone and everyone joining and invite soccer fans to join them on the sidelines and before matches at Henry's Patio at 80 Broadway in Malden.
Be sure to sign up for more information at the Ironsides Crew website at www.IronsidesCrew.org and follow them on Twitter @IronsidesCrew.
At the end of the 2016 season, the Ironsides Crew - named after the famous USS Constitution 'Old Ironsides' that is docked in the former Charlestown Navy yard - selected teenage goalkeeper Vitor Scariot as their Player of the Season. They presented him with a certificate and also donated in his name to the charity of their choice, the Greater Boston Food Bank. In 2017, top scorer Isaac Nana Addai won the award in recognition his his outstanding season.
Boston City FC is delighted to have the support of the Ironsides Crew and to work with them to ensure all fans attending our matches thoroughly enjoy the Boston City FC experience.