WeGotSoccer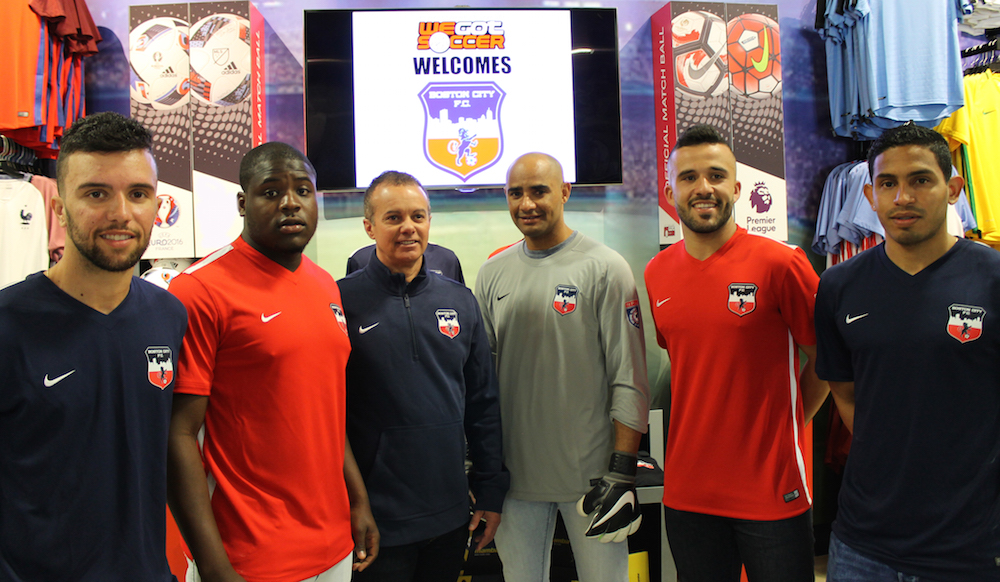 On May 20, 2016, Boston City FC added soccer retailer WeGotSoccer to its growing list of supporters for the 2016 season and the partnership produced the new National Premier Soccer League (NPSL) club's historic first playing kit.
WeGotSoccer was the exclusive apparel supplier of team gear and major accessories and the club wore Nike uniforms and travel and training gear as well as accessories such as tees and hats for the 2017 and 2017 seasons. WeGotSoccer features at all home matches, with signage and social media positions with Boston City FC and has partnered on several community initiatives.
The club's first-ever playing kits featured the red, white and blue colors that are prominent within the club's logo. Classic navy blue away shirts were be paired with striking red home shirts and a third change kit of white. The club badge and unmistakable Nike logo featured on the shirtfront, while the left sleeve carried the NPSL logo.
Visit WeGotSoccer.com by clicking here.
"It was a complete revelation to me when I was brought to the meetings with Michael O'Connor at his retail outlet in Foxborough," said Boston City FC CEO Renato Valentim. "The store is amazing, the warehouse immense and quality product selection unlike any other I have seen in the soccer industry. Their customer service record is exemplary and being local is fantastic as they can react quickly to not only the needs of our team, but the needs of our fans."
Michael O'Connor, Owner of WeGotSoccer said: "During our very first meeting with the ownership group of Boston City FC I was immediately struck by the seriousness they are going about building a soccer franchise. Having a team operating within the immediacy of Boston has been on the wish list of many soccer fans over such a long time and Renato and his group are strategically poised to build a tremendous club given their relationships in the community. It makes perfect sense for WeGotSoccer to be part of that."